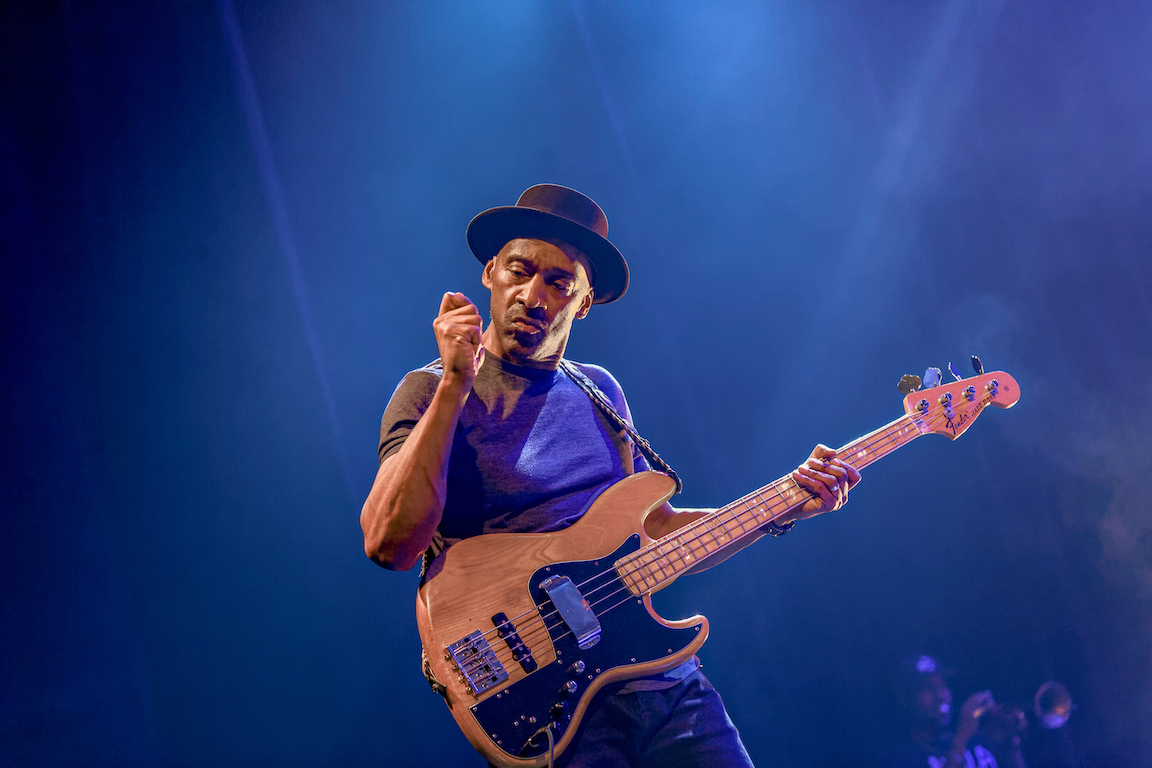 Bass icon, producer and composer: Marcus Miller returns as a headliner at Copenhagen Jazz Festival 2019
---
Marcus Miller is an award-winning American jazz composer, producer and multi-instrumentalist, who has worked with Aretha Franklin, Miles Davis, Herbie Hancock, Eric Clapton, Jay-Z and Beyonce. On July 14 the bass icon returns to Copenhagen Jazz Festival with a performance in DR Koncerthuset on the final night of the 41th festival edition
Miller spent approximately 15 years performing as a session musician to learn the crafts of the performing musician, using his classical training on the clarinet, keyboard, saxophone and guitar. He has played the bass on over 500 recordings and gained many wonderful opportunities during this time, including being musical director of the Saturday Night Live band, writing a track for "The Queen of Soul" Aretha Franklin and touring with jazz great Miles Davis' band from his early 20's – most notably, Miller composed, produced and arranged the ground-breaking album and title song "Tutu", which won two Grammy Awards and is considered one of the definitive late Miles Davis albums.
Born and raised in New York to a musical family (he is the cousin of legendary jazz pianist Wynton Kelly), Miller's characteristic bass sound can be heard on a limitless catalog of hits including Bill Withers' "Just The Two Of Us", Luther Vandross' "Never Too Much", Aretha Franklin's "Jump To It", Snoop Dogg's "Gz and Hustlas", Jay-Z's "Can't Knock the Hustle" and Beyoncé's "All Night" to songs from Chaka Khan, Herbie Hancock, Eric Clapton, Aretha Franklin, George Benson, Elton John, and Bryan Ferry – to name a few. With his distinctive style – a unique combination of funk, groove, soul and pure technical skills – Miller has been referred to as one of the most significant bass players in jazz, R&B, fusion and soul.
In 2012, Miller was appointed as a UNESCO Artist for Peace, supporting and promoting the UNESCO Slave Route Project. His 2015 album, "Afrodeezia", earned a Grammy Award nomination for Best Contemporary Instrumental Album. In 2018, Marcus Miller brought the influence of modern urban music to his trademark sound on his highly-anticipated, genre-defying new album "Laid Black" on Blue Note Records.
Laid Black has been three years in the making since Miller's latest outing "Afrodeezia", which The New York Times called "vibrant and expressive… music that frames his playing beautifully." Miller says: "Afrodeezia was like a musical voyage through my history. I followed the journey of my ancestors by collaborating with musicians along the African Slave route – musicians from West Africa, North Africa, South America and the Caribbean. With Laid Black, I decided to bring the music right up to the present – using elements from what's happening in urban music today. So you'll hear hip-hop, trap, soul, funk, R&B and jazz on this album. The music is calm but also powerful and funky, drawing on the black musical experience. Laid Black."
Marcus Miller (US) – Copenhagen Jazz Festival 2019
Sunday July 14, 8:00 PM at DR Koncerthuset
More info / Buy tickets
The 41th edition of Copenhagen Jazz Festival takes place in Copenhagen on more than 120 venues on July 5-14 2019. Info & program: www.jazz.dk