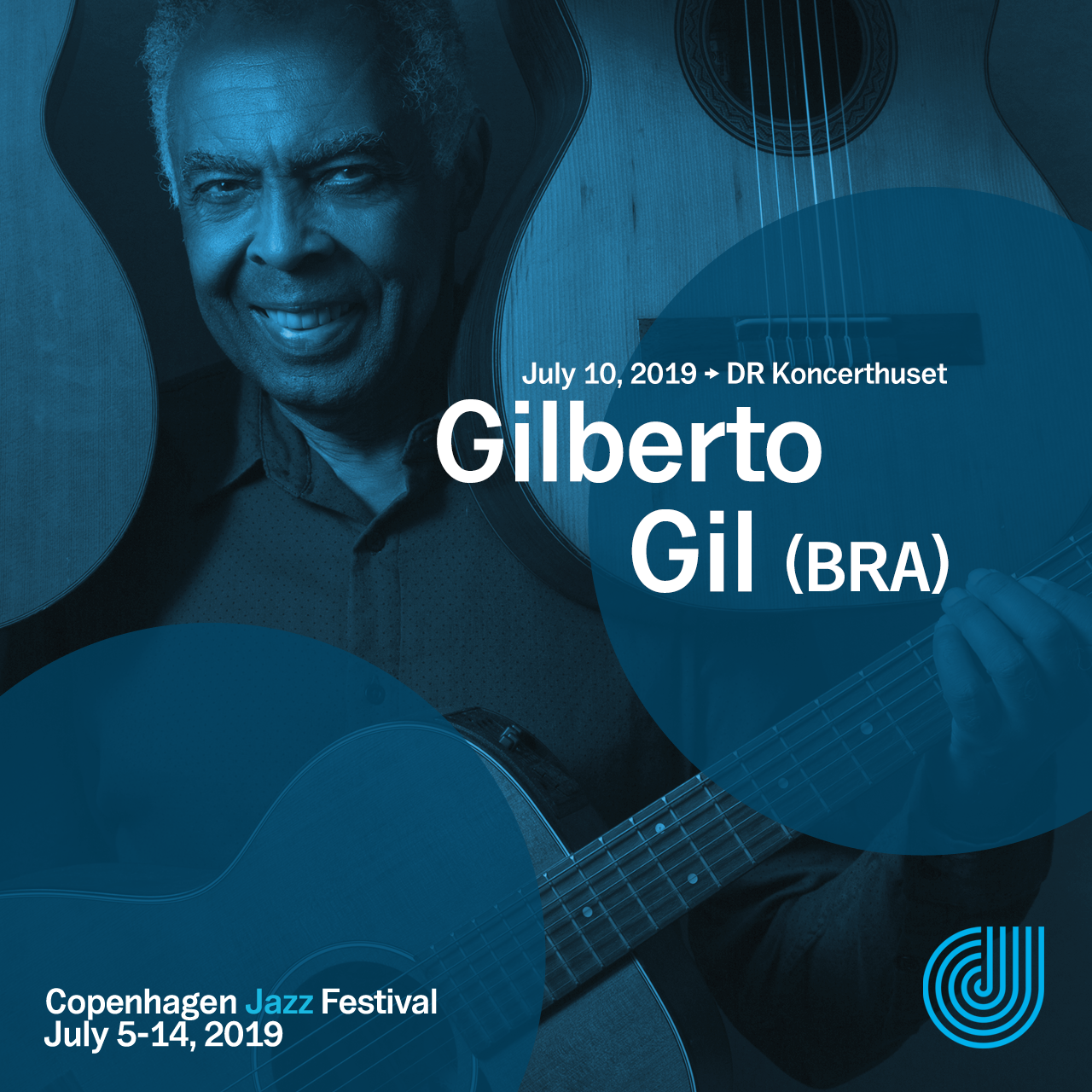 Brazil's musical revolutionary Gilberto Gil joins Copenhagen Jazz Festival with special guest Roberta Sá
---
Guitarist, composer, singer and activist Gilberto Gil is one of Brazil's greatest cultural figures. On July 10 he returns to Copenhagen Jazz Festival with a new album and special guest Roberta Sá to perform in front of one of his most adoring audiences in DR Koncerthuset
Gilberto Gil has always had the gift of incorporating every aspect of daily life into his work – from his initial tenure with bossa nova through to his work with longtime collaborator Caetano Veloso and their foundation of tropicália, his four years as Brazil's cultural minister (2003-2008) and now, at the age of 76, with the release of his latest album "OK OK OK" (2018). From family life to political, social or cultural movements that characterize his time, everything is an inspiration for a new song, an idea for a melody, an ingenious harmonic movement.
Over the course of his impressive career, Gilberto Gil has sung the songs from the northeastern part of Brazil and his childhood in Ituaçu, shaped by his unending admiration of Luiz Gonzaga – an essential vanguard for the influential music emanating from Northeast Brazil in the 20th century. Gilberto Gil has sung about technological developments and their impact on the human journey. He has immersed himself in the depths of being, celebrating feast and faith.
From tropicalist electric guitars to the intimate acoustic guitar, Gil's integrity and commitment to the spirit of music is unshakable. Gil is not afraid of death and not afraid of life, and this attitude has rarely been more evident than on the modern icon's latest album.
"OK OK OK" conjoins his family, close friends, the illness he experienced and those who helped him through it. At the same time, Gilberto Gil questions the need for having to take a stand as demanded by society. The arrangements amplify his iconic interpretation with voice and guitar. The musical production by his son Bem and the participation of friends and family help the intimate aspects of his work stand out.
When Gilberto Gil visits DR Koncerthuset's concert hall at Copenhagen Jazz Festival 2019, he is not only joined by horns, backing vocals, keyboards, guitars and percussion. Also joining as a special guest is the Brazilian songstress Roberta Sá – a highly talented vocalist in her own right with a massive following in her homeland and abroad. The audience is invited on a journey through Gilberto Gil's visionary universe as represented by "OK OK OK" and a selection of his timeless classics – an integral part of the life and history of Brazil. Copenhagen Jazz Festival and DR Koncerthuset is proud to present yet another rung on the seemingly infinite creative ladder of an artist who continues to experiment under any circumstance.
Gilberto Gil (BRA) – Copenhagen Jazz Festival 2019
Wednesday July 10, 21:00 PM in DR Koncerthuset, Koncertsalen
More info / Buy tickets
Gilberto Gil is the latest addition to the international headliners at Copenhagen Jazz Festival, joining Portuguese Mariza (July 7), Ronnie Cuber (July 8-10), Joshua Redman (July 10), Jamison Ross (July 12), Gladys Knight (July 12+13), Dungen performing "Ta Det Lugnt" (July 13) og Marcus Miller (July 14).
The 41th edition of Copenhagen Jazz Festival takes place in Copenhagen on more than 120 venues on July 5-14 2019. Info & program: www.jazz.dk