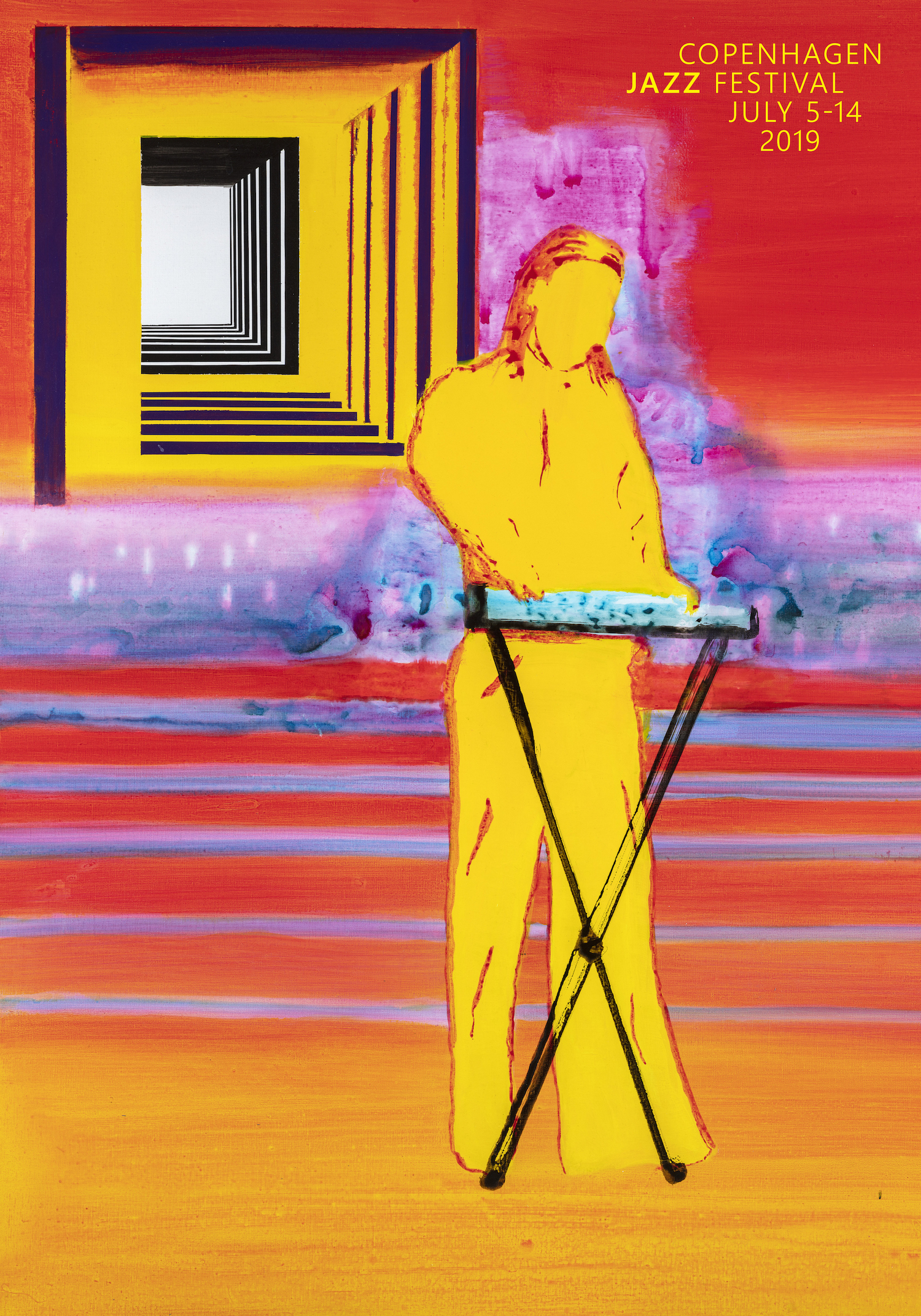 John Kørner is the artist behind this year's art poster for Copenhagen Jazz Festival
---
With lightness of touch and painterly dexterity, John Kørner explores his medium's fundamental duality – its physical presence and its descriptive powers – and the potential for communication or miscommunication that ensues. Kørner has referred to his apparently cheerful paintings as 'Problems'. The viewer is often presented with non-figurative forms including multicoloured ovals and dancing arabesques that symbolise a kind of pre-thought, and simple figurative elements that remind us of the ways in which paint can be used to evoke universally recognisable things: a bicycle, a crocodile, a ship, a person. When displayed simultaneously, often on grounds of intense colour in the works for which Kørner first became known, these abstract signs and nameable things cause the eye to dance between levels of recognition.
Kørner's work encourages musings that can seem contradictory: on the one hand it is apparently open and easy-going, on the other it seems freighted with awkward questions about representation, knowledge, or faith. Whether asking fundamental existential questions or alluding to specific world events, the work speaks unquestionably to our own moment.
In 2008 Kørner completed War Problems, a series sixteen large-scale paintings, each representing a Danish solider killed in combat in Afghanistan and each bearing a single name, which function as a collective expression of the human tragedy imparted by this war. For his 2011 paintings Women for Sale, issues of prostitution and trafficking in Denmark were a point of departure. More recently, aspects of contemporary geopolitics including imbalances of wealth and the displacement of populations are alluded to with various degrees of abstraction and metaphor.
Born in Århus, Denmark in 1967, John Kørner lives and works in Copenhagen. He studied at the Royal Danish Academy of Fine Arts Copenhagen between 1992 and 1998. Kørner has had solo exhibitions at Brandts, Odense, Denmark (2016); Museum Belvedere, Oranjewoud, Netherlands (2016); Herning Museum of Contemporary Art, Denmark (2003, 2013); The Workers' Museum, Copenhagen, Denmark (2011); ARoS Århus Kunstmuseum, Denmark (2006) and Moderna Museet, Sweden (2005). His work was recently included in group exhibitions at institutions including the Scandinavian Institute, New York, (2014); Palais De Tokyo, Paris (2012); Herning Art Museum, Denmark (2009, 2012) Hamburger Bahnhof, Berlin (2011); 1st Berlin Kreuzberg Biennale for Contemporary Art (2010); Tate Modern, London (2010); KUNSTEN Museum of Modern Art Aalborg, Denmark (2010); U-Turn Copenhagen Quadriennial (2008); Kunshthal Charlottenburg, Copenhagen (2008); and the Arken Museum of Modern Art, Denmark (2007).
John Kørner about the art poster for Copenhagen Jazz Festival 2019: "For me, jazz is an emotional and poetic experience; an entrance to a more futuristic level. Therefore, it is my attempt, my ambition with this year's art poster, to signal a strong and abstract color scheme with open spaces and entrances that we, in the company of jazz music, can disappear into. "
Copenhagen Jazz Festival has a long-lasting and proud poster tradition, spanning four decades and visual artists such as Per Arnoldi, Jens Jørgen Thorsen and Tal R, as well as younger names like Halfdan Pisket, Evren Tekinoktay, Henrik Vibskov and Christiane Spangsberg.
This year's festival poster is available through Copenhagen Jazz Festival's web shop and at selected venues.
The 41st edition of Copenhagen Jazz Festival takes place from July 5-14 at 120 venues in Copenhagen and on Frederiksberg. See the complete line-up at www.jazz.dk
Copenhagen Jazz Festival poster artists so far: 1979: unknown // 1980 & 1981: Wibroe, Duckert & Partners // 1982: Pia Schutzmann // 1983: Per Arnoldi // 1984: Niels Reumert // 1985: Bo Bonfils // 1986: Jens Jørgen Thorsen // 1987: Hans Henrik Lerfeldt // 1988: Tom Krøjer // 1989: Bent Karl Jacobsen // 1990: Erik Rasmussen // 1991: Poul Janus Ipsen // 1992: Knud Odde // 1993: Egon Fischer // 1994: Leif Sylvester // 1995: Jørgen Nash // 1996: Lars Ravn // 1997: Henrik Have // 1998: Dorthe Dahlin // 1999: Per Kirkeby // 2000: Bjørn Nørgaard // 2001: Ejler Bille // 2002: Ib Spang Olsen // 2003: Per Arnoldi // 2004: Evren Tekinoktay // 2005: HuskMitNavn // 2006: Jonas Hecksher // 2007: Henrik Vibskov // 2008: Kasper Eistrup // 2009: Tal R // 2010: Søren Solkær Starbird // 2011: Kirstine Roepstorff // 2012: Leo Scherfig // 2013: Søren Behncke // 2014: Mikkel Sommer // 2015: Julie Nord // 2016: Halfdan Pisket // 2017: Rasmus Meisler // 2018: Christiane Spangsberg // 2019: John Kørner