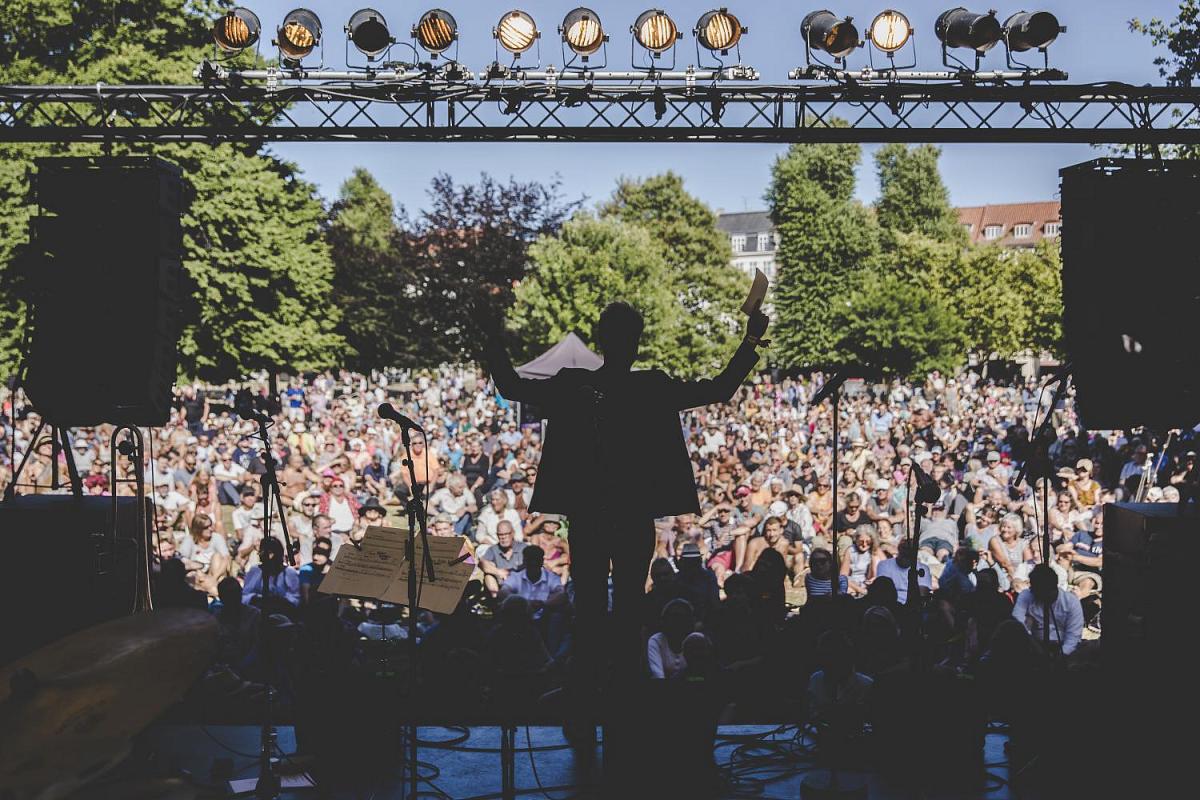 Welcome to Copenhagen Jazz Festival 2019
---
Copenhagen Jazz Festival celebrated its 40th edition a year ago, partly marked by the release of "Fyrre kunstplakater, én jazzfestival" – the first book to deliver a comprehensive look at the festival's proud poster tradition, its many associated artists and their visual interpretations of jazz as a means of expression, and the festival as a broader cultural phenomenon.
This year's art poster has at least one foot planted firmly in the future. The poster has been created by visual artist John Kørner, adding: "For me, jazz is an emotional and poetic experience; an entrance to a more futuristic level. Therefore, it is my attempt, my ambition with this year's art poster, to signal a strong and abstract color scheme with open spaces and entrances that we, in the company of jazz music, can disappear into."
One of this year's festival themes – Future Sound of Jazz – mirrors this futuristic foresight with its foundation in one of jazz's most prominent features, namely its ability to evolve itself while maintaining the future as a dominant focal point.
At Copenhagen Jazz Festival, we strive to include and build upon all the positives that have joined jazz along the way. The New meets The Old – and great things happen. The same can be said for Copenhagen, which itself has undergone drastic changes since the very first Copenhagen Jazz Festival in 1979. These days, Copenhagen is among Europe's most attractive tourist hotspots, in part caused by its inclusivity and diverse sceneries: the old and the new, water as well as land, parks and squares, bikes and scooters – all of it contained in a relaxed and accommodating atmosphere and vibe.
And here's the conclusion: Copenhagen Jazz Festival is undoubtedly Copenhagen – and jazz is one of the city's most important soundtracks. All of this has been made possible with support from Nordea-fonden, the Danish Arts Foundation, Copenhagen Municipality and Frederiksberg Municipality. Their support has created an excellent foundation for the continued development of Copenhagen Jazz Festival with regards to both its artistic content and the dissemination of said content to an audience of old as well as newfangled fans of the festival.
The official opening of Copenhagen Jazz Festival 2019 takes place on Friday July 5, 4:00 PM in Kongens Have. Everyone is invited, and we hope to see you there!
Sign up for the event on Facebook: Official Opening of Copenhagen Jazz Festival 2019
Copenhagen Jazz Festival 2019 takes place at 120 venues on July 5-14. Get the latest updates at www.jazz.dk