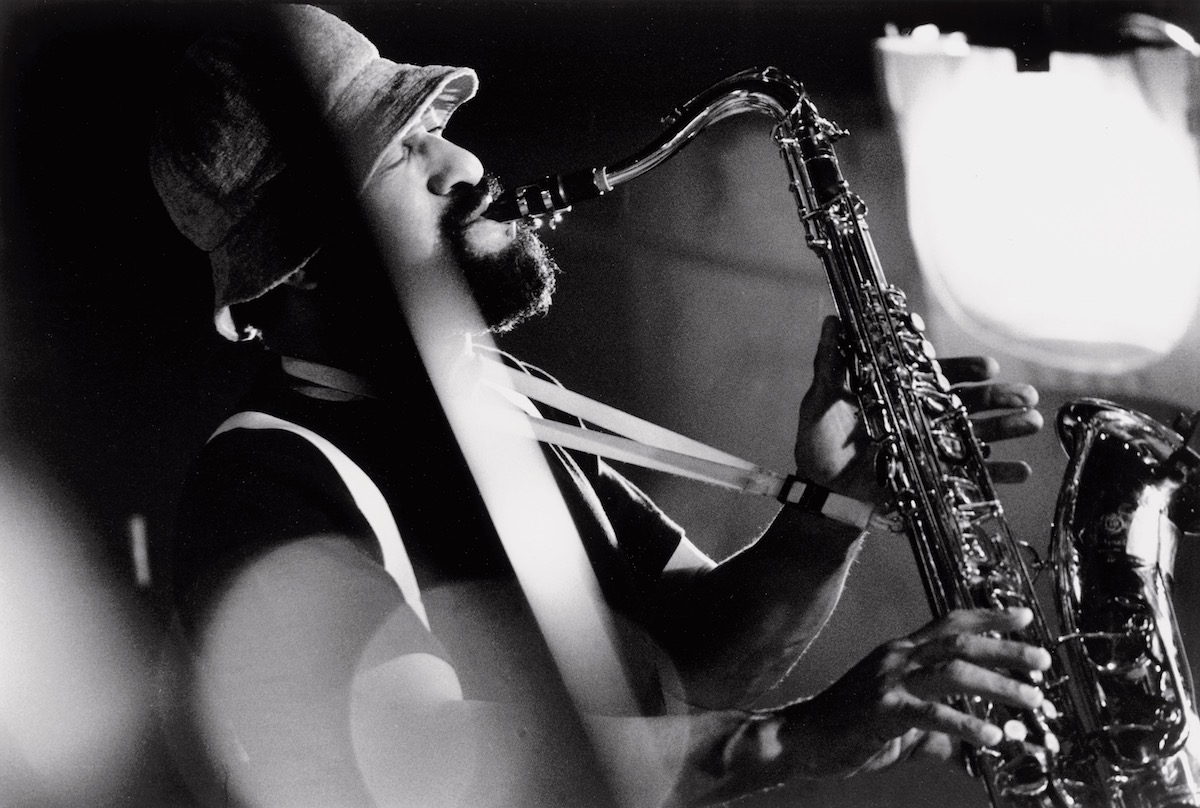 42 years of program history at Copenhagen Jazz Festival
---
Jazz.dk have been digging through program archives, newspaper articles and all relevant literature on the festival history to present the biggest and weirdest artists to play at Copenhagen Jazz Festival since 1979.
Did you know that Sonny Rollins, Weather Report, Jim Hall, Pharaoh Sanders, Ella Fitzgerald, Dollar Brand, Oscar Peterson, Egberto Gismonti, Pat Metheny, Sun Ra, Dizzy Gillespie, Michael Brecker, Art Blakey, Chet Baker, Stan Getz, Ray Charles all performed at the festival in the first five years?! Take a look at the program history below – and join us for Copenhagen Jazz Festival 2022.
(c) Photo by Gorm Valentin.
| | |
| --- | --- |
| | Line-up highlights |
| 1979 | Sonny Rollins Quintet, Pharaoh Sanders, Weather Report, Benny Waters, Bob Brookmeyer / Jim Hall, Count Basie, Carla Bley, Ella Fitzgerald / Joe Pass, Horace Parlan / Doug Raney Quartet, Oscar Peterson / Stephane Grapelli / Niels-Henning Ørsted Pedersen, Ron Carter Quartet, Svend Asmussen, Aske Bentzon, Thad Jones & Bent Jædig, Dollar Brand, Roland Hanna & Thad Jones Quartet, Leonardos Jazzkapel, Papa Bue, New Jungle Orchestra, Clark Terry |
| 1980 | Art Farmer Quartet, Chet Baker, Brecker Brothers, Stan Getz, Jan Garbareks Orkester, Dizzy Gillespie Quartet, Freddie Hubbard Quintet, George Adams / Don Pullen Quartet, John Lee Hooker, Ray Charles, Kenny Drew, John Tchicai, Etta Cameron, Cadentia Nova Danica, Buki-Yamaz, Egberto Gismonti, Pat Metheny Group, Dollar Brand, Svend Asmussen, David Liebman, Chico Hamilton |
| 1981 | Gil Evans Orchestra, Herbie Hancock Quartet, Art Pepper Quartet, Bennie Wallace Trio, Chick Corea Quartet, Chico Freeman, Jazz-Rock Summit feat. Michael Brecker, Randy Brecker, Janne Schaffer, Stefan Nilsson & Per Lindvall, Eddie Palmieri, James Blood Ulmer, Dollar Brand, Finn Ziegler, Jesper Thilo |
| 1982 | Bennie Carter Group, Jack Walrath Group, Joe Pass / Niels-Henning Ørsted Pedersen Duo, Kenny Drew solo, Palle Mikkelborg's Entrance, Milton Nascimento, Egberto Gismonti, Sun Ra Arkestra, Charles Lloyd, Michel Petrucciani, Gerry Mulligan Big Band, Bobby McFerrin, Miroslav Vitous, Steps feat. Michael Brecker, Mike Manieri, Don Grolnick, Eddie Gomez & Peter Erskine, Freddie Hubbard / Joe Henderson / Kenny Barron / Ron Carter / Tony Williams, Horace Parlan, Bent Jædig, Clinch, Ernie Wilkins Almost Big Band |
| 1983 | Art Blakey and His Jazz Messengers, Bobby McFerrin Solo and Baden Powell Solo, Charles Lloyd Quartet, Dizzy Gillespie, McCoy Tyner / Elvin Jones, Duke Jordan Solo Piano, Jan Garbarek Group & Kenny Drew Solo Piano |
| 1984 | Kenny Drew's Trio, Mose Allison Trio, Niels-Henning Ørsted Pedersen Trio, Randy Brecker / Eliane Elias Group, Duke Jordan / Jesper Lundgaard Duo, Stanley Clarke / Miroslav Vitous Duo, Johnny Griffin / Eddie "Lockjaw" Davis Group, Stanley Clarke, Archie Shepp, Arthur Blythe, Egberto Gismonti / Nana Vasconcelos, Jerry Gonzales, Dollar Brand Septet, Don Pender, Casiopea |
| 1985 | Gilberto Gil Group, McCoy Tyner Trio, Jack DeJohnette Special Edition, Jamaaladeen Tacuma Group, Baltimore Peabody Ragtime Ensemble, Bob Moses Group, Count Basie Orchestra, Frontline, Jimmy Witherspoon / Dee Dee Bridgewater Group, Joe Pass / Niels-Henning Ørsted Pedersen Duo, Etta Cameron Jazzgroup |
| 1986 | Wayne Shorter Quartet, Carla Bley Band, David Sanborn Group, Gil Evans Orchestra, John Scofield Group,Betty Carter Trio, Milton Nascimento, John Tchicai Quartet, Terri Lyne Carrington, Egberto Gismonti, Joe Henderson / Woody Shaw, |
| 1987 | Airto Moreira / Flora Purim, Chick Corea, Gary Burton Group, Gato Barbieri Group w. Bernard Purdie, John Scofield Group, Stan Getz Quartet, Kenny Drew / Jesper Lundgård, Manhattan Transfer, C. V. Jørgensen, Ornette Coleman & His Prime Time Band w. special guest Don Cherry, Last Exit feat. Peter Brötzmann, Sonny Sharrock, Bill Laswell & Ronald Shannon Jackson |
| 1988 | Art Blakey's Jazz Messengers, Dee Dee Bridgewater, Horace Silver Quintet, Michel Petrucciani / Gary Peacock / Roy Hanes, Lee Konitz / Joe Pass duo, Dizzy Gillespie Big Band, Irakere, Lee Konitz Nonet, Michel Camilo Trio, Tony Williams |
| 1989 | Allegro, Betty Carter, Henri Threadgill, Denny Christianson Big Band (CA), Michael Brecker Band, Monty Alexander & his Ivory and Steel Jamboree, New Music Orchestra 1989, Roy Rogers and the Delta Rhythm Kings & Super Diamono de Dakár, |
| 1990 | Dizzy Gillespie + United Nation Orchestra, Ladysmith Black Mambazo, Michael Brecker Band, Palle Mikkelborg 'Journey to…', Gary Burton Quintet, Wayne Shorter Group, Herbie Mann, Take 6 |
| 1991 | Enrico Pieranunzi Trio, David Sanborn Band feat. Kenny Kirkland, Tom Barney, Al Foster, Don Alias, Kip Hanrahan w. Jack Bruce, Michel Camilo Quintet, Yellowjackets & Michael Franks, Bob Berg, Mike Stern Quartet, Robert Cray Band feat. Memphis Horns, Kip Hanrahan & Jack Bruce, Abdullah Ibrahim, Joe Lovano / Jim Hall 'Grand Slam', Eliane Elias, Joe Henderson |
| 1992 | Albert King, Return of the Brecker Brothers, Derek Bailey, The New Music Orchestra, Eliane Elias Group, Fajabefa Nordic Tour '92 feat. Charlie Haden, Jack DeJohnette, Niels-Henning Ørsted Pedersen Trio, Steve Coleman Five elements, Chick Corea & Mario Bauza, |
| 1993 | Sonny Rollins, Gil Scott Heron, John Abercrombie, Fourmost feat. Jimmy Smith, Herman Riley, Kenny Burrel, Grady Tate, The Wynton Marsalis Septet, Roy Hargrove Quintet, Bill Frisell Band, Dino Saluzzi 'Mojotoro Project', Arturo Sandoval & His Band, Elvin Jones, Maceo Parker & Roots Revisited, Palle Mikkelborg & Niels-Henning Ørsted Pedersen Trio, New Orleans Original Brass Band, Lluis Vidal, Gangstarr Quartet feat. Guru, Donald Byrd & Roy Ayers 'Jazzmatazz', Once Around The Park |
| 1994 | Oscar Peterson Trio, Buddy DeFranco & Terry Gibbs Quintet, Lionel Hampton and His Golden Men of Jazz, Thomas Clausen Trio feat. Gary Burton, Gateway, John Abercrombie, Dave Holland, Jack DeJohnette, Mike Stern Group feat. Dave Weckl, Svend Asmussen, Steve Coleman & The Metrics, Egberto Gismonti, Django Bates, Joakim Milder |
| 1995 | Art Farmer – Benny Golson Jazztet, B.B.King, Blachman Thomas meets Al Agami and Remee, Wynton Marsalis & Lincoln Center Jazz Orchestra, Django Bates & Delightful Precipice, Eddie Harris Jazzfunk Explosion |
| 1996 | Abbey Lincoln, Horace Silver Septet, Jan Garbarek Group, Marilyn Mazur's Future Song, Michel Petrucciani, Niels-Henning Ørsted Pedersen m. Renée Røsnes, Ulf Wakenius, Jonas Johansen og Radiopigekoret, Svend Asmussen Quartet, Wayne Shorter Group, Chick Corea, Wallace Roney, Joshua Redman, Christian McBride & Roy Haynes, Abdullah Ibrahim & Joe Lovano/Jim Hall 'Grand Slam', Davie Liebman, John Abercrombie, Herlin Riley, Kruder & Dorfmeister, Supersilent, Nils Petter Molvær |
| 1997 | Herbie Hancock feat. Michael Brecker, Pat Metheny & Dave Holland, Eric Clapton feat. Steve Gadd, Marcus Miller, David Sanborn & Joe Sample, Svend Asmussen Quartet, James Hardway Group, Joe Lovano Quartet & Maceo Parker, Etta Cameron & The Voices of Joy, Arne Domnerus Trio, Renee Rosnes |
| 1998 | Tony Bennett, Barbara Best Singers, Cassandra Wilson, Charles Lloyd Quartet, Joe Louis Walker & The Bosstalkers, Zawinul Syndicate, Mingus Big Band, Niels-Henning Ørsted Pedersen solo,  Mats Gustafsson & Keith Rowe, Louis Moholo, OK Nok Kongo feat. John Tchicai, Cæcilie Norby & Danish Radio Jazz Orchestra, Marilyn Mazur, Future 3, Eddie Gomez solo |
| 1999 | Keith Jarrett, Herbie Hancock, Tony Bennett, Dianne Reeves, Ralph Izizarry & Timbalaye, Gary Peacock, Jack DeJohnette, Thomas Franck Quartet, Chick Corea & Origin feat. Gary Burton, Ed Thigpen Trio, Niels-Henning Ørsted Pedersen Trio, Svend Asmussen, Palle Mikkelborg, Adam Nussbaum Trio, Ginman/Jørgensen, Tys Tys |
| 2000 | Diana Krall, Roy Haynes, Toots Thielemans, Tony Bennett, Michael Brecker / Pat Metheney, Richard Galliano, Natalie Cole, Curtis Stigers, Maria Schneider, McCoy Tyner, Wallace Roney / Jimmi Cobb, Avishai Cohen, Tys Tys, Once Around The Park, Ernie Wilkins Big Band feat. Clark Terry, Regina Carter |
| 2001 | Ray Charles, Charlie Haden, Wayne Shorter, Olu Dara, Richard Bona, Dianne Reeves, Bill Frisell, Nnenna Freelon, Peter Brötzmann, Marilyn Mazur, Mike Stern, Joe Lovano, Clark Terry, Marilyn Crispell, Django Bates, Bugge Wesseltoft, Hanne Boel, Jon Balke Grand Magnetic |
| 2002 | Palle Mikkelborg & Ars Nova, John Scofield, Joe Lovano, Dave Holland, Al Foster, Miroslav Vitous, Michel Portel, Richard Galliano, Svend Asmussen, Pablo Ziegler, Doug Raney, Ed Thigpen, Finn Ziegler, Maceo Parker, Randy Crawford, Django Bates, Tim Berne, Copenhagen Art Ensemble, Thomas Lehn / Paul Lovens, Peter Bastian |
| 2003 | Dianne Reeves, Tony Bennett, Tomasz Stanko, Herbie Hancock, Cassandra Wilson, Dee Dee Bridgewater, Svend Asmussen, Louis Sclavis, Arve Henriksen, Charanga Habanera, Sidsel Endresen, Bugpowder, Fredrik Lundin Basalt, Palle Mikkelborg, Beatiful Day, Ben Street, Ikscheltaschel, T.I.G. |
| 2004 | Herbie Hancock feat. Wayne Shorter, Dave Holland & Brian Blade, Gilberto Gil, Tomasz Stanko, John Scofield, Danilo Perez, Keith Jarrett Trio, Ahmad Jamal, Milton Nascimento, Dianne Reeves, Albert "Tootie" Heath, Johnny Griffin, Povl Dissing & Benny Andersen, The Bad Plus, Diana Krall |
| 2005 | Chick Corea, Hermeto Pascoal, Zawinul Syndicate, Yusuf Lateef, Pierre Dørge & New Jungle Orchestra, Madeleine Peyroux, Curtis Stigers, Jan Garbarek & The Hilliard Ensemble, Brad Mehldau, Gary Burton Quintet, Roy Haynes, Joe Lovano / Hank Jones, Babakarej, Kirsten Ketcher, Bugpowder, Bleeder Group, Marc Ducret, Bugge Wesseltoft, Matthew Herbert, GinmanBlachmanDahl, Marilyn Mazur, Efterklang, George Duke |
| 2006 | Herbie Hancock, Svend Asmussen Quartet, Salif Keita, Tony Allen, Gotan Project, Pat Metheny, Michel Camilo, Richard Bona, Sergio Mendes, Brad Mehldau, Dianne Reeves, John Scofield / Jack DeJohnette / Larry Goldings, Fred Frith, Otomo Yoshihide, DR Big Band, Maria Laurette Friis, Chris Cheek, Henry Grimes |
| 2007 | Joshua Redman Trio, Kenny Garrett Quartet, Jan Garbarek Group, McCoy Tyner, The Zawinul Syndicate, Mavis Staples, Medeski, Scofield, Martin & Wood, Yellow Jackets, Tomasz Stanko, Maceo Parker, Tower of Power, Eliane Elias, Kurt Elling, George Clinton, Bojan Z, Johann Johansson, Bajofondo Tangoclub, Joey DeFrancesco, Fred Frith, Natacha Atlas, Jørgen Leth |
| 2008 | Ornette Coleman, Wayne Shorter, Cassandra Wilson, Annette Peacock, Denmark's New Jungle Orchestra, Joe Lovano, Ravi Coltrane, Dave Liebman, Brad Mehldau Trio, Angelique Kidjo, David Murray, Maceo Parker Black Saint Quartet, Jason Moran, Charles Loyd Quartet & The Zawinul Syndicate |
| 2009 | Chick Corea, Blind Boys of Alabama, Dianne Reeves / Lizz Wright / Angelique Kidjo / Simone, Palle Mikkelborg "Aura", Bajofondo, Spanish Harlem Orchestra, Aaron Parks, Daedelus, Dee Dee Bridgewater, George Duke, James Taylor, Jose Gonzalez, Sebastian, Yusuf Lateef, |
| 2010 | Herbie Hancock, Elvis Costello, Diana Krall, Martha Wainwright, Joe Lovano & DR Big Bandet, Caetano Veloso, Marcus Miller & Esperanza Spalding, Scott DuBois, Vijay Iyer, Gratchen Parlato, Joshua Redman Double Trio, Jason Moran Bandwagon, Mark Turner / Larry Grenadier / Jeff Ballard, Eddie Palmieri, Caroline Henderson, David Sanborn / Joey De Francesco / Steve Gadd, Bill Frisell, Raul de Souza, Dianne Reeves, Evan Parker, Fred Frith, Chris Corsano, John Abercrombie |
| 2011 | Sonny Rollins, Keith Jarrett / Gary Peacock / Jack DeJohnette, Bobby McFerrin, Mike Stern, Dianne Reeves / Lizz Wright / Angelique Kidjo, Juhani Aaltonen, Gary Burton, Abdullah Ibrahim, Bunky Green, Charles Lloyd, Terence Blanchard, Brad Mehldau / Joshua Redman, Oumou Sangare, Ebo Taylor, Raul Midon / Richard Bona, Larry Graham & Central Station, Palle Mikkelborg, Michael Blake, Hamid Drake, Andrew Cyrille, The Pyramids, Girls In Airports, Quadron |
| 2012 | Brad Mehldau Trio, Anoushka Shankar, Miles Smiles, Wayne Shorter Quartet, Choir of Young Believers, Caroline Henderson, The John Scofield Hollowbody Band, Girls in Airports, Vijay Iyer, Jim Hall, Ambrose Akinmusire, Joe Lovano / Dave Douglas, Neneh Cherry & The Thing, Goran Kajfes, The Necks, Nosaj Thing, Chalie Hunter, Milton Nascimento, Lezek Mozdzer, Concha Buika, Getatchew Mekuria, The Ex, Bassakou Kouyate, Tony Allen, Lee Konitz, James Blood Ulmer |
| 2013 | Marcus Miller & Richard Bona, Cassandra Wilson, Dianne Reeves, Macy Gray & David Murray Infinity Quartet, Cæcilie Norby, Medeski, Martin & Wood, Becca Stevens, Thundercat, Tomasz Stanko, Ibrahim Maalouf, Mariam The Believer, Paul Jackson, Joelle Leandre, Bill Frisell, Charles Lloyd / Zakir Hussein / Eric Harland, Joe Lovano, Tower of Power, Warren Wolf, Billy Cobham, Sunny Murray, Tyshawn Sorey, Phil Minton, Enrico Pieranunzi, Arturo Sandoval, Betty LaVette, Branford Marsalis, Terence Blachard |
| 2014 | Gregory Porter, Chick Corea & Stanley Clarke, The John Scofield Überjam Band, Joey DeFrancesco Trio, Tinariwen, Concha Buika, Daniel Puente Encina, Thurston Moore & Mats Gustafsson, Christian McBride Trio, Cæcilie Norby, Stacey Kent, Danilo Perez / Brian Blade / John Patitucci, Christan McBride Trio, Hiromi, The Thing, Dave Holland Prism, Jakob Bro / Thomas Morgan / Jon Christensen / Palle Mikkelborg, Shashank Subramanyam, Joshua Redman Quartet, Manu Katche / Richard Bona, Aaron Parks, Joey Alexander, Stian Westerhus, Melissa Aldana, Selvhenter, Josephine Forster feat. Michael Zerang, Juju & Jordash, Kassem Mosse, Søren Kjærgaard / Simon Steen-Andersen |
| 2015 | Tony Bennett & Lady Gaga, Herbie Hancock & Chick Corea, Caetano Veloso & Gilberto Gil, Brad Mehldau Trio, Dr. John, Rhiannon Giddens, Savage Rose, Michel Camilo, Gary Peacock Trio, Yellowjackets, The Bad Plus, Joshua Redman, Salif Keita, Jamie Cullum, Dianne Reeves, Al Jarreau, Enrico Pieranunzi, Vijay Iyer, Fire! Orchestra, Jason Moran, Eve Risser, Bill Frisell, Ben Sidran, Blood Sport, Charles Hayward, Toto La Momposina, Orlando Julius, Nate Wooley, Maria Faust, Okkyung Lee |
| 2016 | Burt Bacharach, Gregory Porter, Pat Metheny, Dee Dee Bridgewater, Richard Bona & Mandekan Cubano, Branford Marsalis Quartet ft. Kurt Elling, Charles Lloyd New Quartet, Sun Ra Arkestra directed by Marshall Allen, GoGo Penguin, Melanie De Biasio, Gino Vanelli, Lizz Wright, Bixiga 70, Ed Motta, Egberto Gismonti, Arturo Sandoval, Gary Peacock, Meshiya Lake, Tomasz Stanko, Alexander von Schlippenbach, Micachu, DR Big Bandet, Marilyn Mazur Shamania |
| 2017 | Anoushka Shankar, Herbie Hancock, Jamie Cullum, Woody Allen, Norah Jones, Erykah Badu, Bill Frisell Trio, Oumou Sangaré, Roberto Fonseca, Jason Moran solo, Ambrose Akinmusire, Mark Guiliana, Eliane Elias, Jan Garbarek Group, Lee Konitz / Dan Tepfer, Dee Dee Bridgewater, Curtis Stigers, Cory Henry & The Funk Apostles, David Sanborn, Youn Sun Nah, Coco O., Kira Skov & Maria Faust, Mikkelborg / Lundin / Dahl / Ginman / Blachman, Sølvtøjet, August Rosenbaum, Phronesis, MoGoToYoYo, Matana Roberts, The Music of Nicolai Munch-Hansen |
| 2018 | Rokia Traoré, Pharoah Sanders, The Roots, Seu Jorge, Brad Mehldau Trio, Mulatu Astatke, Jeff Beck, Carla Bley Trio (aflyst), Jorge Rossy, Charles Lloyd & Bill Frisell, Tomatito & Michel Camilo, Hailu Mergia, Joe McPhee, Richard Galliano, Kurt Elling, Guinga, Tank & The Bangas, Melody Gardot, Lee Fields & The Expressions, Sons of Kemet, The Comet Is Coming, Gilad Hekselman, Hermeto Pascoal, Phronesis, Kira Skov & Maria Faust, Christian Sands Trio, Jenny Hval, Tim Berne, Fred Frith, Onom Agemo & The Disco Jumpers feat. Ahmed Ag Kaedy, Goran Kajfeš, Majid Bekkas, Dan Weiss, Sounds of Sisso |
| 2019 | Gladys Knight, Oumou Sangaré, Gilberto Gil, Mariza, Eliane Elias, José James "Lean on Me", Airto Moreira & Flora Purim, Marcus Miller, Joshua Redman, Cory Henry & The Funk Apostles, Gregory Porter, Lionel Loueke, Joshua Abrams, Bill Charlap, Ronnie Cuber, Bernard Purdie & Randy Brecker, Julian Lage Trio, Kruder & Dorfmeister, Bill Laswell & Kalaha, Makaya McCraven, Shai Maestro, Christian Sands Trio, Jaques Morelenbaum, Ginman/Blachman/Dahl, Joe Armon-Jones, Goldings/Bernstein/Stewart, Jakob Bro/Larry Grenadier/Jorge Rossy, Kira Skov, Mikael Simpson, Keb' Mo', Kaja Draksler, Melissa Aldana, Selvhenter, Camané & Mário Laginha, Dungen, Hot 8 Brass Band, Jamison Ross, Bo Sundström, Hailey Tuck, Sudan Archives, Alfa Mist, Sarathy Korwar, Nadah El Shazly, Ghost–Note, Nihiloxica, Yussef Dayes, Jon Cleary, Delgrés |
| 2020 | [Cancelled] |
| 2021 | Palle Mikkelborg, Bremer / McCoy, Coco O. & August Rosenbaum, Girls in Airports Pierre Dørge & New Jungle Orchestra, Kira Skov, Carsten Dahl Trinity, The Savage Rose, Svaneborg Kardyb, Marilyn Mazur, Maria Faust, Bisse, Jorge Rossy, Thumbscrew, GinmanBlachmanDahl, Lotte Anker, Hess Is More, Laurits Hyllested, Øyunn, Enrico Pieranunzi, Cæcilie Trier, Tabloid, Athletic Progression |