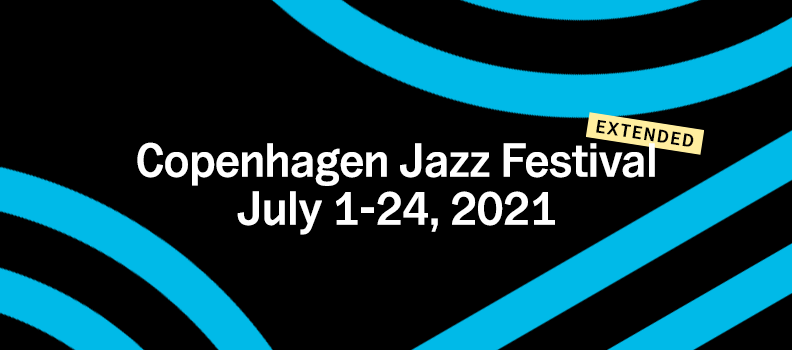 Copenhagen Jazz Festival 2021 expands to 24 days while narrowing in on intimate concerts
---
Press release, May 4, 2021
Copenhagen Jazz Festival reacts to the political decisions regarding the pandemic. As a consequence, the festival has chosen to 1) primarily focus on established venues, 2) expand the time period from 10 to 24 days and 3) invite venues and organizers from Copenhagen's environs to participate in this year's festival.
"Our thoughts and sympathies go out to all wristband-based festivals, yet Copenhagen Jazz Festival operates under an entirely different structure. Now, we are utilizing this structure to upscale this year's edition, letting the audience enjoy live jazz for a longer period of time and in a greater geographical area. Meanwhile, it makes sense to focus in on the many venues in Copenhagen, seeing as they're set to reopen in a few days" – Kenneth Hansen, festival director.
Each year in July, Copenhagen Jazz Festival has taken over Copenhagen's streets and alleys, squares and parks, gathering an audience in the thousands for a diverse celebration of the many aspects of jazz. This summer's restrictions will invariably limit certain otherwise deeply traditional parts of the festival – e.g. the many large and usually free, open-air events. However, it is the festival's current assessment that it is still possible to carry out the event within the restrictions that apply to the majority of the participating venues. Due to the extension from 10 to 24 days, venues and organizers will also have the opportunity to distribute the festival's many concerts over a longer period.
About Copenhagen Jazz Festival
Copenhagen Jazz Festival has been around since 1979, residing at local venues, jazz clubs and on city squares, in parks, concert halls and churches. The latest edition in 2019 consisted of approximately 1400 concerts at 130 venues.
Copenhagen Jazz Festival 2021 takes place from July 1-24. The complete line-up is continually published here at www.jazz.dk.