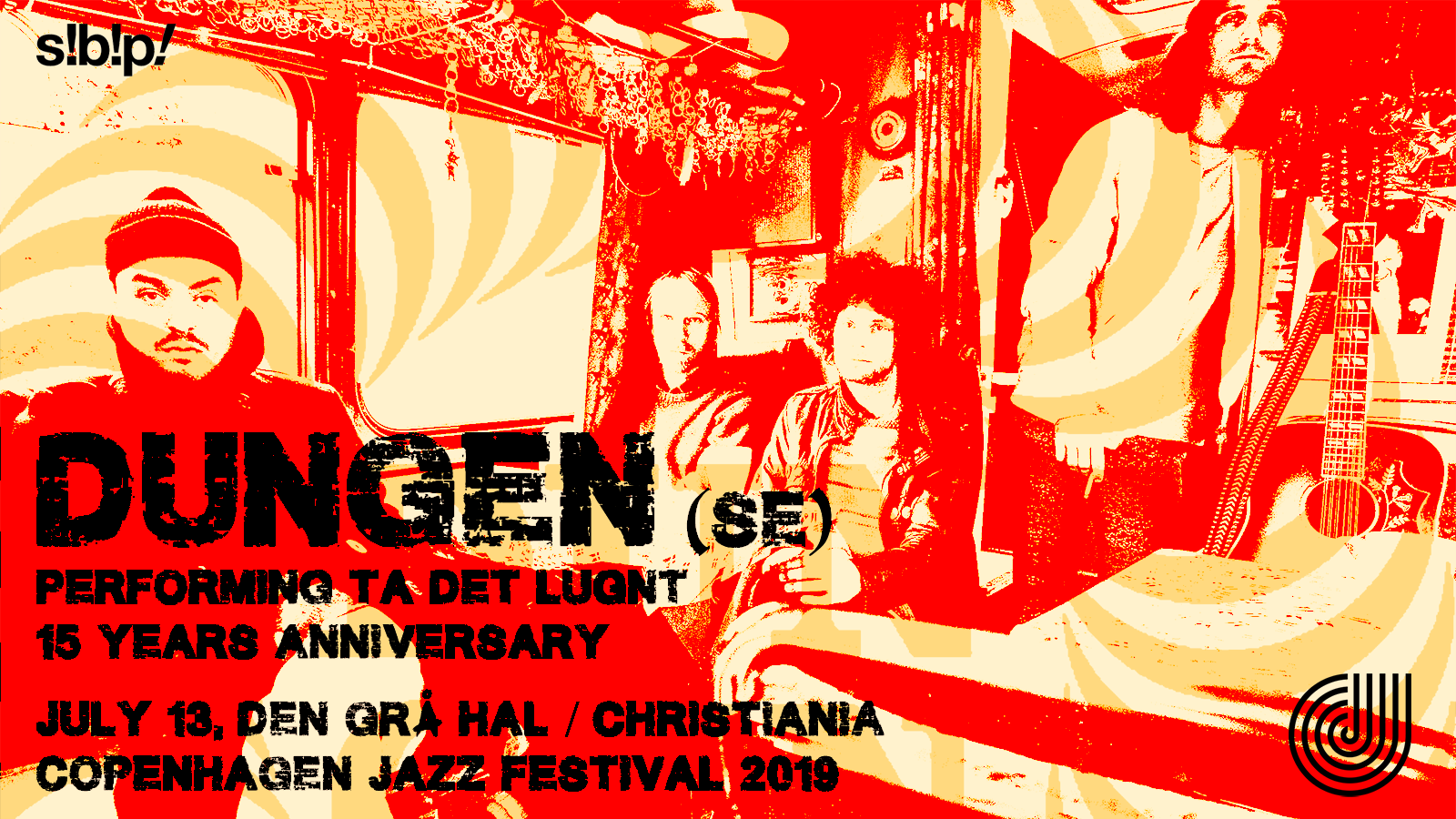 Swedish Dungen celebrate the 15th anniversary for "Ta Det Lugnt" at Copenhagen Jazz Festival 2019
---
Swedish psychedelic rockers Dungen released their influential album "Ta Det Lugnt" in 2004, inspiring musical soul mates such as Tame Impala and Fleet Foxes. This summer, Dungen celebrates the sunlaced album's first 15 years with a complete live rendition at Copenhagen Jazz Festival 2019
Listening to "Ta Det Lugnt" (trans. "Take It Easy") is one of the most rejuvenating musical vitamin shots you'll find. The album, released to international acclaim in 2004, was Dungen's third, and managed to spread like wildfire to a stunned audience – both in sun-deprived Scandinavia and in sunburned reaches in Australia and the US. During Copenhagen Jazz Festival 2019, the festival audience will be able to administer their own dose of auditive vitamin D, when Dungen performs "Ta Det Lugnt" in its entirety in Den Grå Hal, Christiania on Saturday, July 13. The anniversary performance is presented by Copenhagen Jazz Festival and Smash!Bang!Pow!
The story behind the Swedish psych-band Dungen, established in 1999, is first and foremost the story of multi-instrumentalist, composer and lead singer Gustav Ejstes. As the band's main driving force – Ejstes plays most of the instruments on Dungen's studio records and has produced and mixed the majority of them as well – he has put his determining fingerprint on the sound of modern psychedelic rock as it's been exemplified on record charts around the world during the past decade.
The release of "Ta Det Lugnt" was the catalyst for the Swedish-singing group, establishing Dungen as a global act with a performance at talk show host Conan O'Brien, international tours and a long list of celebrity fans such as Kevin Parker (Tame Impala), Fleet Foxes, Jim Jarmusch and many others. Drawing inspiration from Swedish folk songs, psychedelia and classic rock, Dungen have managed to reach a sizable foreign audience, despite most of this audience's lack of ability to understand even a word of the group's Swedish titles and lyrics – much to the surprise of Gustav Ejstes.
Dungen's signature sound seems to be the key here. Participating only partly during studio sessions, yet a constant factor when performing live, Ejstes is flanked by bassist Mattias Gustavsson, Johan Holmegard and modern psych-veteran Reine Fiske, whose acidic guitar virtuosity has been a big part in the performing side of Norwegian psychers Motorpsycho as well. The studio output from Dungen sits firmly in the warmest-sounding part of the 1960s with equal parts ecstacy and fuzz, and their live act pays its dues to the decade's sprawling, ever-evolving jams. Copenhagen Jazz Festival and Smash!Bang!Pow! are honoured to present a unique act performing one of their biggest triumphs in its entirety, when Dungen celebrates the 15 year anniversary of "Ta Det Lugnt" in Den Grå Hal in Christiania this summer.
Dungen performing "Ta Det Lugnt" (SE) – Copenhagen Jazz Festival 2019 & Smash!Bang!Pow!
Saturday July 13, 10:00 PM in Den Grå Hal, Christiania
Read more / Buy tickets