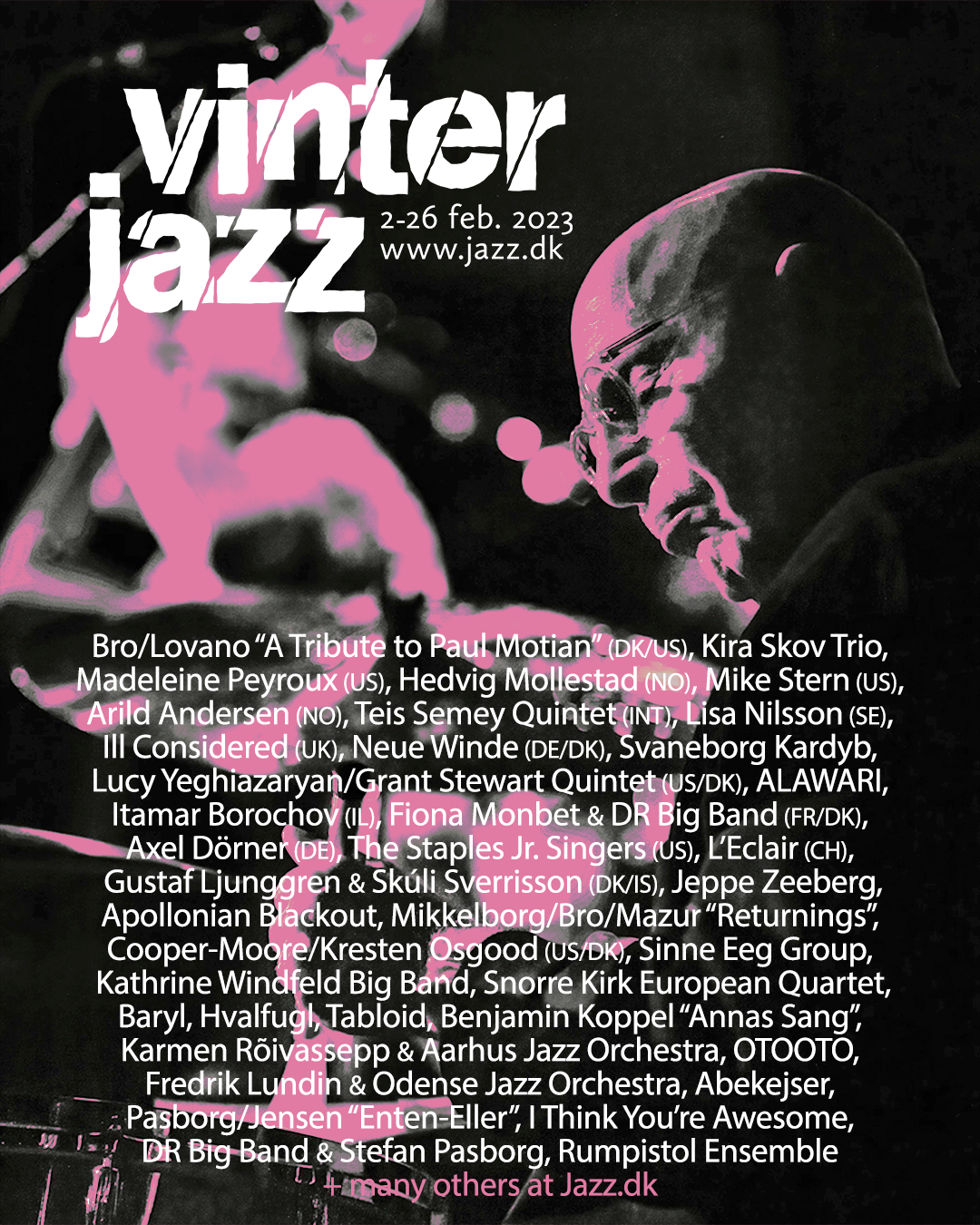 Vinterjazz 2023 presents the complete line-up: See this year's headliners
---
The 22nd edition of Vinterjazz kicks off from February 2 to 26. As always, the festival's line-up is chock full of a wide variety – artistically and geographically – of artists. Here, we've assembled an overview of the many international headliners, nation-wide tours, new groups and projects all contributing to make Vinterjazz 2023 the best edition yet
Look forward to international stars like Mike Stern with band, American jazz singer and songwriter Madeleine Peyroux, Swedish songstress Lisa Nilsson with longtime collaborator, guitarist Mattias Torell, Israeli trumpeter Itamar Borochov, German trumpeter, composer and master of electronics Axel Dörner, Norse guitarist, composer og improviser Hedvig Mollestad with her trio as well as Irish-French violinist Fiona Monbet joining forces with DR Big Band.
Want your own schedule of favorite concerts for Vinterjazz 2023? Get the new app for smartphones here
The star-studded headliners are joined by ECM icon, bassist and composer Arild Andersen and British group Ill Considered alongside a very special live premiere of the collaboration between Danish guitarist Jakob Bro and American sax Joe Lovano and their tribute record to the late great Paul Motian – "Once Around The Room".
The nationwide tours are made up from Danish Music Awards Jazz 2022 winners ALAWARI as well Cooper-Moore/Kresten Osgood (US/DK), Lucy Yeghiazaryan / Grant Stewart Quintet (US/DK), L'Eclair (CH), Sinne Eeg Group, Snorre Kirk European Quartet, Baryl, Svaneborg Kardyb, Kira Skov, Rumpistol and more.
Special projects have always been a big part of the festival's allure. You can look forward to events like Annas Sang – Bogkoncert with Benjamin Koppel, Ambivalence – Karmen Rõivassepp's new collaboration with Aarhus Jazz Orchestra, fifteen(!) concerts with global Apollonian Blackout and Fredrik Lundin's project with Odense Jazz Orchestra. Check out the Danish-German special project Neue Winde (DE/DK) with Hans Ulrik, Pablo Held and others as well as Gustaf Ljunggren & Skúli Sverrisson (DK/IS), who will be interpreting Ljunggren's own original works.
Vinterjazz 2023 also acts as a natural habitat for up and coming young acts like Teis Semey Quintet (DK/INT), Nissen Mosh, Kathrine Windfeld Big Band, OTOOTO, Tabloid, I Think You're Awesome og Hvalfugl.
Vinterjazz 2023 is a nationwide festival for music which takes place from February 2-26. Thanks to Nordea-fonden and the Danish Arts Foundation.